There is so much to be excited about this time of year. The grass is turning green, the blossoms on the trees are blooming and those tulips in the ground are starting to make their appearance. It feels so great to be outside again enjoying the beautiful Spring weather. With so much to love about this season it provides the perfect opportunity to get some updated Spring photos.
Here are 5 great tips for taking candid Easter photos
1.What to Wear?
When it comes to deciding what to wear for Easter photos there really are so many options. I usually recommend coordinating outfits without matching them, however, I think Easter photos can be the exception. If you like having your girls wearing cute matching dresses then I say go for it. If, on the other hand you want each child in something different but still want the clothes to compliment each other, try focusing on a color palette. There are so many pretty pastels colors to choose from this time of year. Try mixing both solid colored clothing with patterns to add variety. Also, look for clothes with simple embellishments as a great way to add just a hint of Easter while still keeping things simple.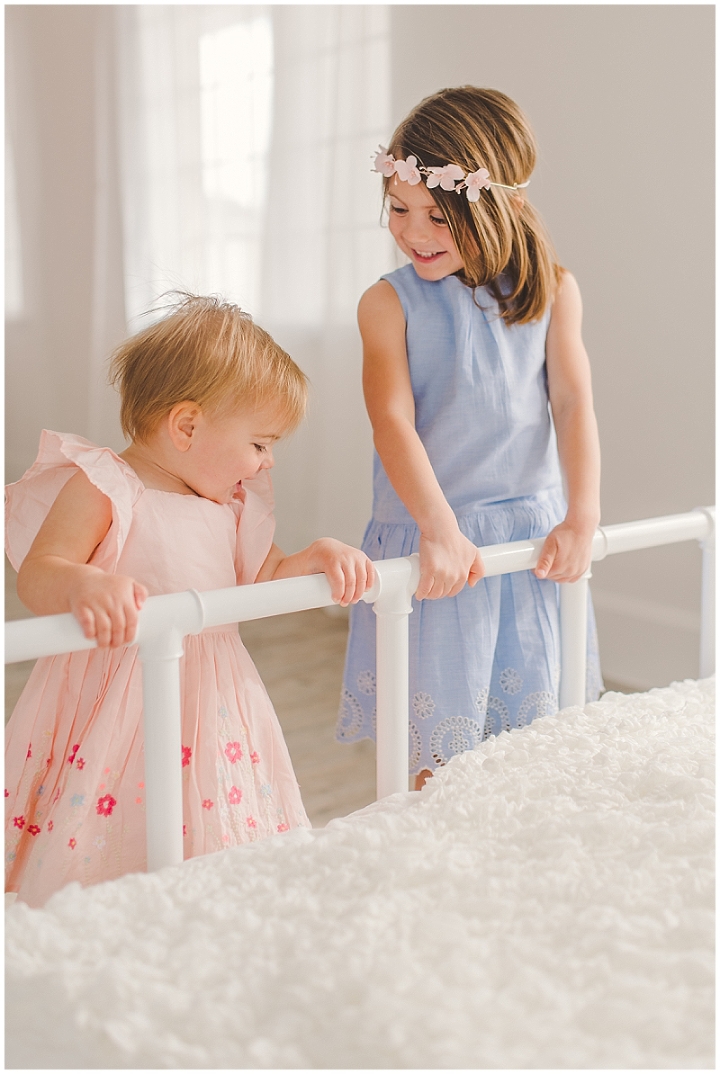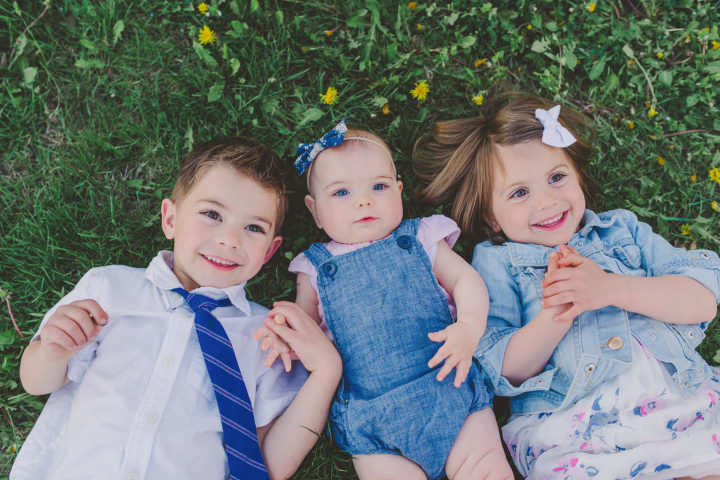 2. Include Accessories
If you don't want to run out and buy all new outfits for Easter, there are still a lot of great ways to add that Spring feel without breaking the bank. You can easily add that touch of Spring to your child's outfit by adding a cute spring bow tie to go along with his white Sunday shirt. For the girls, think about adding hair accessories that have a Spring feel to them. A floral headband or hat can dress up any outfit and instantly give it that Spring feel you are looking for.  Remember to keep things simple and a little goes a long way.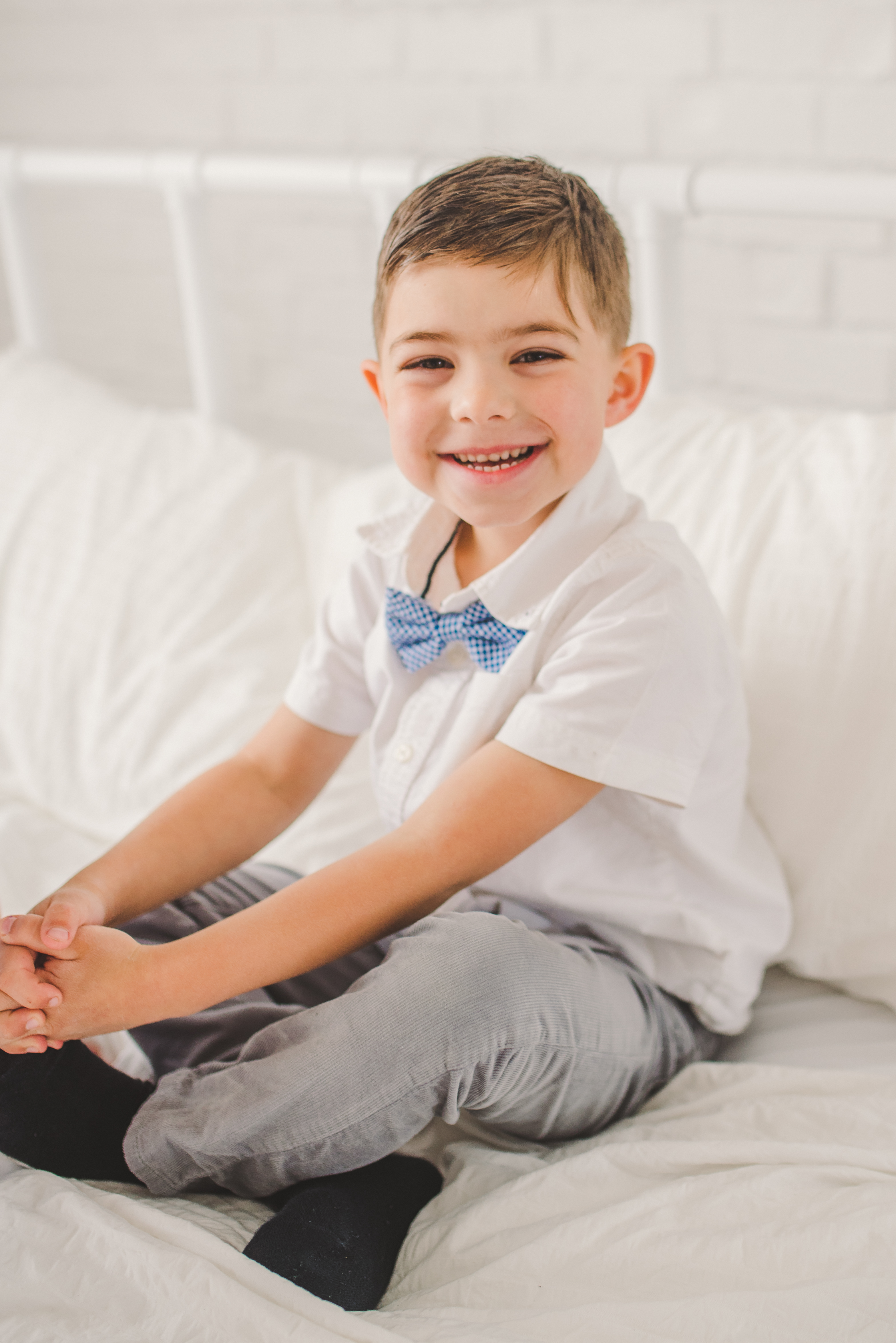 How cute are these bow ties created by Orchard Blossoms

3. Use Props with a Purpose
I love to include props in photos but not for the reason you may think. My purpose for using props isn't so much to add decor to the photos but to give the child you are photographing something to focus on. By giving them a simple prop they will not only be entertained but it will help bring out those candid emotions you are hoping to photograph. Look around your home for things that remind you of Spring. This could be those cute Easter baskets, Easter eggs or perhaps the very loved and worn plush bunny. Send the kids on a Easter egg hunt through out the yard or invite them to play ring around the roses. These are all great ways to give your photos that added Easter feel while still keeping things candid.
My favorite addition to Easter photos are those cute baby animals. These remind us all so much of Spring and they naturally bring out our tender and nurturing side. If you don't have baby animals at home you could ask friends or neighbors for permission to come take photos with theirs. Another great option is to visit a local farm or petting zoo.  This is such a great way to let your children experience the joy these beautiful baby animals bring to the world.
4. Where to take those Easter photos
When it comes to deciding where to take those Easter photos all you have to do is a take a step outside your front door and begin taking photos on your own front porch. This is the entry way to your home and a place that may have a lot of meaning to your family. From there I suggest inviting your children to go on a nature walk outside your home. Look for signs of Spring and have them explore the flowers and blossoms that are starting to come out. This gives them something to focus while you are snapping photos of them walking around the yard. This will also give you some great ideas of your favorite spots around the yard that you may want to go back to later on to take a few more photos.
Another great location that you can find in your own backyard is that green grass we have been missing all Winter long. By having your kids sit or lay on the grass you can easily add that Spring feel your are looking for while getting some close up shots of your little ones. The best part is that you really don't need to go far from home.
A very simple yet great place to take photos inside your home is on your bed. Move things aside that could be a distraction and let those kids pile up on the bed together. Let them giggle or sing a song and not only will they feel at ease but they will be having fun as well. Also, don't be afraid to break the rules a little and let them have fun jumping on the bed.
5. Focus on details
As I mentioned earlier, adding props can help create those candid moments you are hoping to photograph. Focus on all of the little details around you. Move around and take photos from different angles. By getting down low you will see details in a new light and will be able to show them from a child's perspective.  One day you will miss those tiny tiny chubby hands picking up those easter eggs so be sure to photograph that too. 
Now is the perfect time to start taking Easter photos. If you wait until Easter Sunday you may be feeling a little stressed trying to capture that perfect photo all in one day. Take photos all month long of all of the fun Easter family traditions you are family enjoys together. Photographing these little moments will help keep these beautiful memories fresh for years to come.
Click here to see more ideas on today's Easter Photo Ideas Studio 5 Segment
Enter to WIN a free Spring Studio Session by visiting @natalifeltphotography on Instagram